ANANSI REVOLUTIONARY COLLECTIVE

---
ANANSI REVOLUTIONARY COLLECTIVE
is a Pan-African group of artists distributed throughout the world that collaborate with each other on art and work. We co-steward a commons, follows the ANANSI philosophy, experiments with collaborative practices, and is building a participatory governance model.
We are artists, activists, anarchists, inventors, economists, guerrilla theorists, creatives, creators, and collaborators. We are distibuted throughout the globe, and step with ease between the many worlds we inhabit. We are both trans- and anti-disciplinary, and together we are greater than the sum of our parts.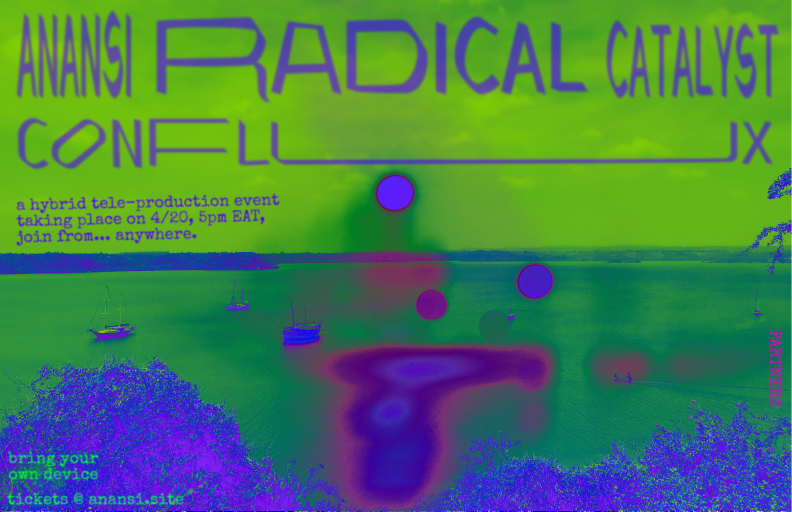 ---
MINIFESTO

The ANANSI Revolutionary Collective (ARC000) is a pro-Black, pan-African arts collective.
Members collectively steward a commons of:

material resources (money, equipment)
infrastructure (ANANSI Residential Compound, Funkwhale)
people-power (time banking, commitment statements)
knowledge (documentation, creative assets)

The collective is the steward of the emergent ANANSI philosophy.

The ANANSI philosophy is one of Black holistic distribution, growing out of the interdependence of pan-Africanism, while seeking to disrupt mass centralization across disciplines (politics, technology, economics, culture, community, spirituality, etc).

The collective continually experiments with and uses an emergent collection of collaborative praxis. This praxis includes:

collective budgeting
consensus and consent based decision making
rotational responsibility
reparational funding/capital redistribution
collective mythmaking

The collective is building a governance model structured around a participatory protocol, rather than a body of people. This envisioned protocol will include guidelines around:

membership
voting
praxis and project management
altering the protocol
---
PROJECTS
As a collective, our life blood is collaboration: collaborating within ourselves between members, collaborating with other collectives and institutions, and facilitating collaborations between members of our various communities.
ANANSI Residential Compound
ANANSI Regular Conversation
Communal Computing

Meet Me in the Living Room

The Kenyan Renaissance: Redio Mapenduzi
---
PEOPLE

Over time, we've collaborated with dozens of artists, and we consider them all family for life. Our current active members are:
Beyond the core collective that has explicitly collaborated with each other under the ANANSI name, we have an open community where we share resources, ideas, and care.
Karibuni
.
PRAXIS
We have a grand vision, and our collective praxis is how we've set about achieving those goals. Our praxis is a set of techniques and strategies based in our philosophy of distribution that we continually use in our projects and document and teach to all who are interested.
Collective Budgeting


Rotational Responsibility




Collective Mythmaking
---
PROTOCOL

We are hard at work building a resiliant heterarchical protocol to govern ourselves and the commons that we are creating. The ultimate goal is to create a set of rules and regulations that allows for and encourages all members to create proposals, access the commons, and alter the protocol without the need for a static bosses and officials.
Right now our protocol consists of:
Membership Guidelines

Voting Guidelines