ANANSI REVOLUTIONARY CONFLUX: BLACK TO THE FUTURE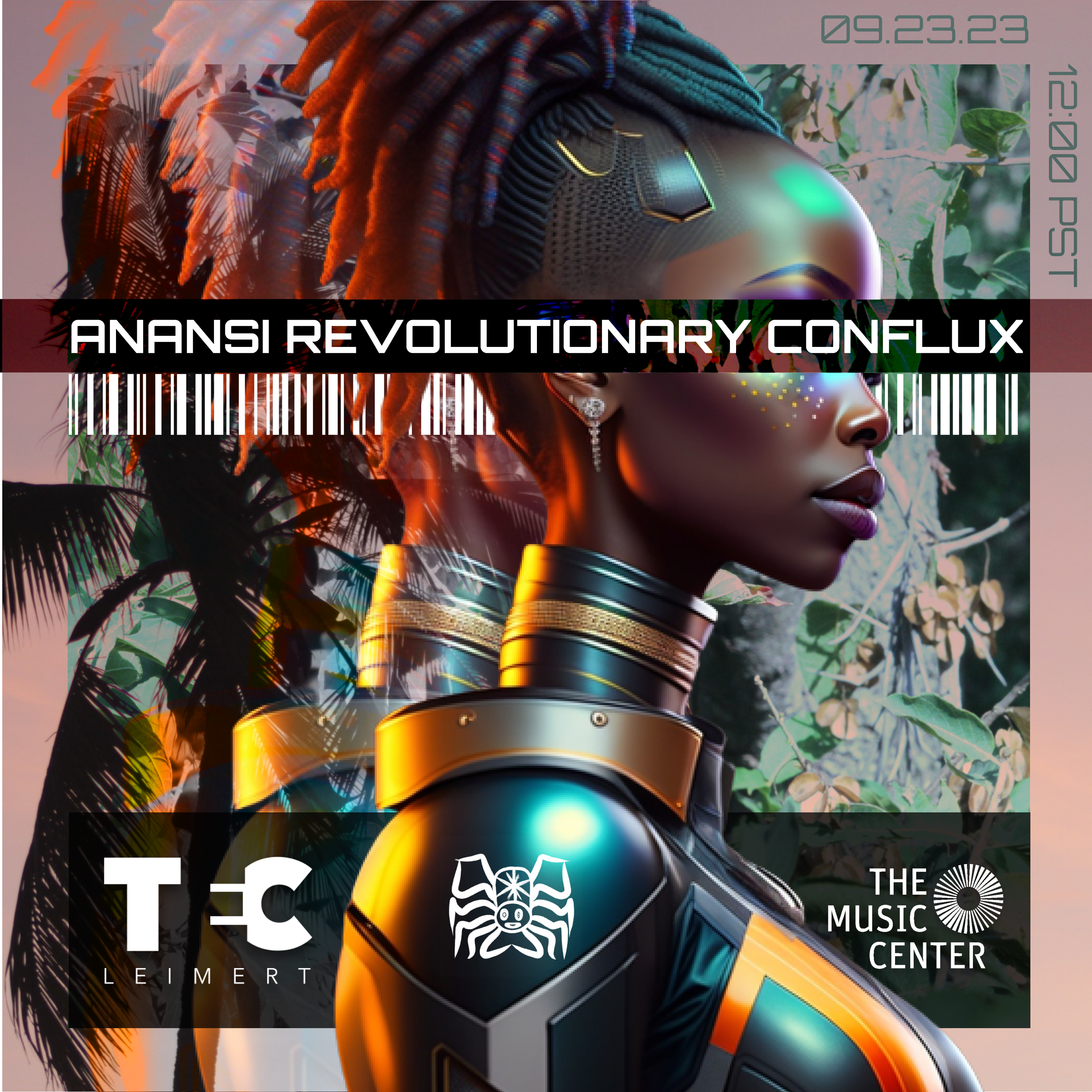 Welcome to the ANANSI REVOLUTIONARY CONFLUX: BLACK TO THE FUTURE, a radical experiment in the hybrid co-creation of art. You are about to enter into a new creative dimension; by joining us in this experience, you will not only be stepping into the Umoja Center, Dimension 33, or the ANANSI Residential Compound, but passing through a virtual portal into the techno-spiritual realm, where you will connect with artists in Los Angeles and Nairobi simultaneously partying and producing alongside you on the other side of the world, as well as other lone wolf bedroom producer joining in strictly in the virtual plane. During this experience, your only mission is to create beautiful vibrations, both musical and relational, but within the ANANSI ROAMING COMPLEX, there is much more to explore should your heart desire.
TIME
04.20.23
16:00 - 20:00 EAT
TICKETS

LOS ANGELES @ UMOJA CENTER

NAIROBI @ D

IMENSION 33
NAIROBI @ ANANSI RESIDENTIAL COMPOUND


WORLD @ ONLINE
PARTNERS

TEC Leimert
The Music Center
Dimension 33
Meet Me
Calm and Connect
Array Records
---
The Conflux is an emergent art practice of collaborative tele-production of art. When participating, one enters a social space that fosters forward-thinking approaches to expression and co-creation. Though it began with the co-production of music, it has since been adapted to other art forms such as visuals and writing, further proving its ability and aim to use emerging technologies to enable artists in different physical locations to create with each other.

RUN OF SHOW

Check In. Meet our facilitators, get event info, and learn how to participate.
Conflux. Join in any of the Conflux forms throughout the event. There are different types, such as jamming and lyrics writing. You can also learn new skills through tutorials on the main stage.
Break. Take time for bio breaks and to socialize in the hybrid realm.
Open Conscendo. Listen to the tracks you've created throughout the event.
---
The Conflux uses a wide range of virtual tools beginning with Gather.Town (a funky web-conferencing platform) as a base, with digital creation tools specific to each art form, such as online DAWs like BandLab for music and Figma (an interactive design tool) for the Visual Conflux.

The musical Conflux has evolved into many shapes and forms all, revolving around a creative round-robin. The primary forms are the Conflux QP (Quick Play): A session in which artists simultaneously work on creating a total of 4-5 tracks together per session, with each artist working on every single track; Conflux Jam: A session in which artists collectively collaborate to create one jam in a one-off live session, designed for maximum education in which each artist narrates their process as they create; and the Confluxtape: a long-form process of co-producing songs in which artists are freed from the time constraints of the QP and Jam sessions. We've also experimented with Visual Conflux: where different visual artists collaborate on and 'remix' each others' design work, and Lyrical Conflux: where artists work together to write lyrics.
TUTORIALS


+ JAM - guided music
++ QP - sync music
+++ BANDLAB - sync music tool

+ LYRICAL CONFLUX - lyric writing

+ = DIFFICULTY